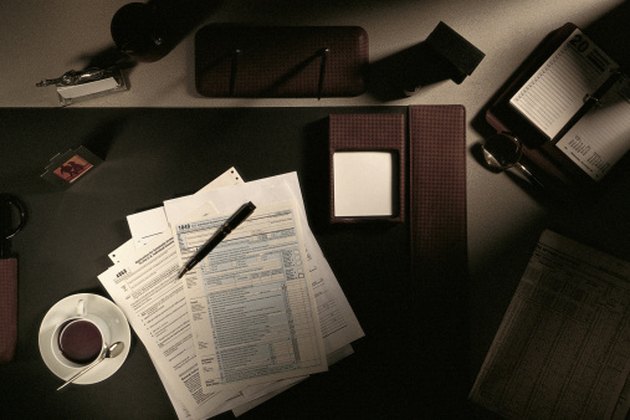 If you sold securities and profited from the sale in a given tax year, you are required to report the income on an IRS Form 1099B. Whether you have income from a single transaction or multiple transactions, the Form 1099B will be provided to you from your brokerage or mutual-fund firm. Your brokerage or mutual-fund firm will be reporting the same information to the IRS. Tax codes change year to year, so double check form-filing with the IRS, but filing the Form 1099B is fairly simple.
Step 1
When preparing your return, you will need to input basic information, if it has not been provided by your broker or mutual-fund firm. On Box1a, input the date of the transaction. This information will be used as the sales date on Schedule D.
Step 2
In Box 2, input the amount of money received on the sale of the securities, stocks or bonds, this information will also be input on the Schedule D as the sales price. Your brokerage firm/mutual fund firm may reduce this amount to deduct commissions. If your firm does so, check the box next to the amount.
Step 3
For Box 8, describe the asset which was sold. This amount is also entered on Schedule D. If your firm provides additional cost basis information on the asset, you can include this on Schedule D to classify the gain as a short-term or long-term gain.
Step 4
When filing your Form 1040 taxes, include a copy of your Form 1099B and subsequent Schedule D.
Warning
You will not be able to use the Form 1040A or Form 1040EZ with Form 1099B income. All forms and schedules must be filed with the Form 1040 at the time you or your tax preparer file your taxes with the Internal Revenue Service. Failure to include the forms can result in incomplete taxes, fines or possibly audits.
Things You'll Need
Form 1099B (provided by brokerage/mutual fund firm)

Form 1040A

Calculator

Date of Sale

Amount of Sale

Type of Asset Sold

Amount of Profit/Loss

Form 1099B Schedule D