Ohio food benefits are administered as part of the federal Supplemental Nutrition Assistance Program. Initial eligibility for SNAP is based on household income. Monthly benefits are determined through a complex calculation that takes into account household resources and expenses. Food stamp benefits are placed on an Ohio Direction Card that recipients use to make allowable purchases.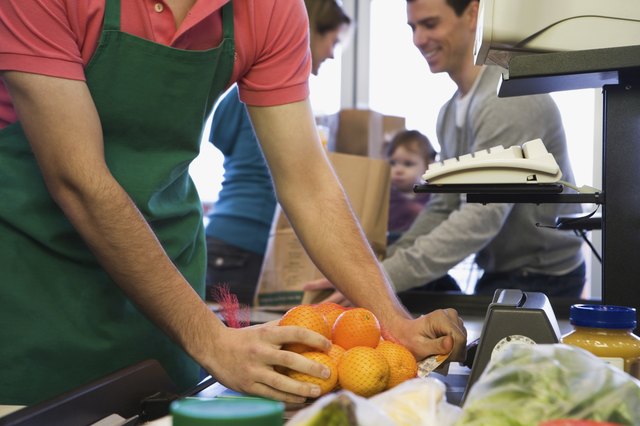 credit: XiXinXing/iStock/Getty Images
Who Qualifies for Food Assistance
Household income determines eligibility for food stamps in Ohio. Consistent with national SNAP guidelines, a household with income at or below 130 percent of the national poverty guidelines may receive food stamp benefits. Some households with higher income may qualify, if a household member is elderly or disabled. The federal poverty guidelines change every year. For the period of Oct. 1, 2014 to Sept. 30, 2015, a household with four people would be provisionally eligible for food stamps if its gross household income was less than $2,584 per month.
How to Apply for Food Stamps
Residents of Ohio can apply for food stamps online at the Department of Job and Family Services website. Alternatively, Ohioans can apply in person at a local county agency office. The Ohio Benefit Bank also assists people with food stamp applications.
Applicants need to provide proof of the following: Social Security number Income Identity Housing, utility, child care, child support and dependent costs * Medical costs for those elderly or disabled
Calculation of Benefit Amounts
In Ohio the amount of food stamp benefits depends on household resources and expenses. Housing costs, gas, power, phone and child care are among those expenses included in the calculation, as are some household resources, such as cash, stocks and savings. Supplemental Security Income and Temporary Assistance for Needy Families payments are not included in the calculation. In addition, households are permitted to have some savings without it affecting the level of food stamp assistance.
Eligible Food Purchases
Food stamp benefits are applied to an Ohio Direction Card, which works similar to a debit card. The Ohio Direction Card is used to buy food products. with the exception of restaurant food, hot food for immediate consumption, medicines, vitamins, alcohol and tobacco. Food stamps cannot be used for any non-food items such as soap, pet food, paper products or household supplies. The Ohio Direction Card is accepted at most grocery stores and at some farmers' markets. Users of the card should look for the ODC logo in the store window.