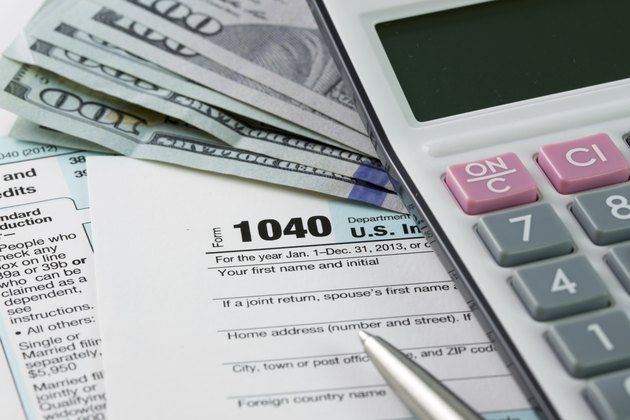 The Internal Revenue Service charges $57 for each copy of your tax return. You can get a free transcript of your returns for the current year and previous three years. While a tax transcript isn't a duplicate of your tax return, it shows the line items on your return as it was filed. It also shows adjustments you or the IRS made to the return while it was in the processing stages.
Order Online
You can order your transcript online by using the Internal Revenue Service tool, "Order A Transcript." To view and print your transcripts immediately, select "Get Online Transcript." Before the IRS gives you access to your information, you'll need to create an online login. The process involves verifying your identity and the filing status and address you used on your most recent return. If you prefer to receive your transcript by mail, select "Get Transcript by Mail." Enter the required information including your Social Security number, date of birth and address. Also, select the type of transcript you want and the tax return year. It will take five to 10 days to receive your transcript.
Order By Phone
You can order your transcripts by calling the IRS at 1-800-908-9946. Follow the automated prompts and enter the requested information. Like the online process, you'll need to verify your identity. The information you give must match the information the IRS has on file. You'll get your transcript within five to 10 days of your call.
Order By Mail
To order your tax return transcript by mail, complete Form 4506T-EZ, which is the transcript request short form. You also can use Form 4506-T, which is the full version form. Use this form if you also need to get your account transcript with the IRS, a record of your account, verification that you didn't file a return or information returns, such as your W-2 or Form 1099. Mail the form to the IRS address applicable to your state – you can find this information on page 2 of the form.
Disaster Relief
If you are the victim of a severe storm, the IRS might waive the fee for a copy of your return. The president must declare your residential area a disaster. Complete Form 4506, Request for Copy of Tax Return. Place the disaster designation code in red at the top of the page. For example, if you live in Vermont, place "Vermont Severe Winter Storm (DR 4207)" in red at the top of the form.