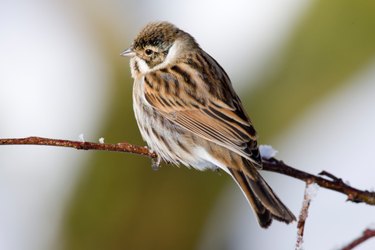 Towhees singing in the snow-covered bushes and little Nuthatches at play bring joy to the bird enthusiast on a dreary winter day. But all that joyful chirping requires a continuous, high-calorie food source. Homemade suet can ensure the health of these wild birds. This high-energy animal byproduct supplies a variety of nutrients to birds and other wildlife, according to Attract Wild Birds. You can feed the birds a homemade recipe that provides additional nutrition throughout the winter, at little personal cost. Give the birds unshelled peanuts and cranberries along with their suet, and they will return each year to share their joyful noise.
Melt, Mix and Mold
Step 1
Melt the suet or lard in the saucepan. Add and mix all of the listed ingredients to the melted suet. Cool and allow mixture to congeal.
Step 2
Spread suet paste onto the pine cones or mold the suet into balls. Shape suet into squares for the suet feeder.
Step 3
Place pine cones, balls or suet feeder in the bushes or trees. Wrap and freeze excess mixture for additional use.
Step 4
Avoid the smell of animal suet by using lard or baking grease. Double the ingredients to make sufficient homemade suet last all winter. Be creative, wild birds enjoy fruit, nuts, oats, grain, sunflower seed and creamy or crunchy peanut butter.
Things You'll Need
Large saucepan

Spoon

Spreading knife

6 pine cones

1/2 pound lard/ground suet

2 cups bread crumbs

1 cup unsalted nuts

3 chopped apples

1 cup raisins

1 cup brown sugar

1/4 cup cornmeal

1/2 cup whole wheat flour

1 cup peanut butter

1 cup bird seed