A ground cover is a plant or collection of plants that grow low to the ground and rapidly develop, covering large areas in a lawn or landscape. Ground covers are used to thwart soil erosion and to prevent the growth of weeds, and often are planted where it is not convenient to mow, or where grass does not grow. However, ground cover plants can be expensive. To save money and stay on budget, choose economical, fast-growing plants.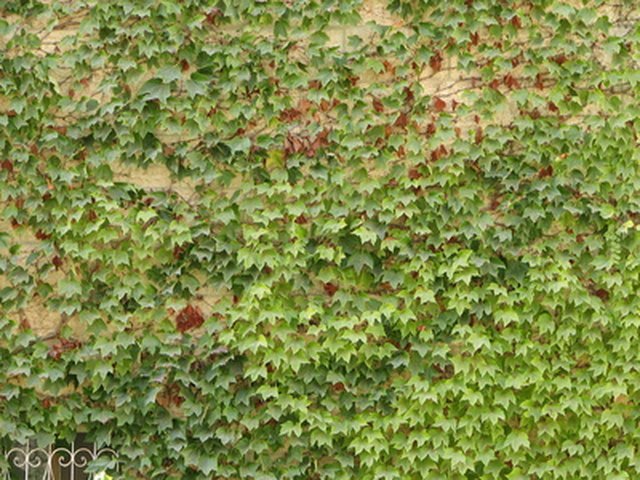 Creeping Myrtle
Scientifically know as the Vinca Minor, the creeping myrtle is a broad leaf evergreen that is commonly used as a ground cover in USDA Hardiness Zones 4 through 8. Named for its creeping growth habit, the creeping myrtle rapidly spreads over the ground on short, trailing vines. Thriving in both full sun and partial shade, creeping myrtle is fairly resilient and tolerant of most soil types. They bloom in the spring and throughout the summer, producing small, lavender flowers that can add to a yard's visual appeal.
Bugleweed
The bugleweed (Ajuga reptans), is a good choice for landscapers on a budget. It is a colorful plant with flowers that vary from white to rose to blue, and foliage that ranges in color from green to bronze to purple. It is a hardy plant that thrives under a variety of climates and conditions. A perennial evergreen, it can be grown in USDA Hardiness Zones 3 through 10. This swiftly budding plant grows in a dense mat that creates a carpet of greenery. It is useful for both erosion control and as a deer repellent.
English Ivy
Used as a low-maintenance alternative to traditional grass lawns, English Ivy is a cold hardy evergreen grown in USDA Hardiness Zones 4 through 9. The ability of this plant to thrive in shade, where grass generally does not grow, and on slopes makes it a popular erosion-control option for many homeowners. Some landscapers also take advantage of the English ivy's tendency to climb and plant it near fences and walls for cosmetic cover.
Blue Rug Juniper
The blue rug juniper, or Juniperus horizontalis, is a quick-growing evergreen shrub that thrives in USDA Hardiness Zones 3 through 9. Named for its bluish foliage and spreading growth pattern, the blue rug juniper creeps along the ground forming a thick rug of vegetation, making it a perfect choice for ground cover. Low-maintenance and disease-resistant, the blue rug juniper grows best in full sun and slightly acidic soil, reaching 4 to 6 inches in height when full mature.