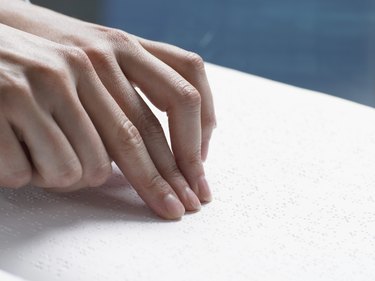 You can collect Social Security if you become disabled and have paid into the Social Security system over your lifetime, or you qualify as someone disabled with limited income or under the age of 18. A wide range of conditions are covered by the Social Security disability rules. Conditions approved for disability payments can be physical or mental impairments proven by laboratory or clinical diagnostics. Find a comprehensive list of qualifying disabilities at the Social Security Administration's Blue Book.
The 14 Categories
Qualifying conditions for Social Security disability fall under 14 general categories. The Blue Book lists conditions that affect the bodily functions operated by the cardiovascular, skeletal, digestive and circulatory systems. Skin, blood and mental disorder categories include a number of qualifying conditions. Congenital disorders, blindness, deafness and disorders that lead to chronic kidney disorder fall under separate qualifying categories.
Adults and Children Qualifications Vary
Whether you are low-income and qualify for Supplemental Social Security disability benefits or rely on the insurance you paid into while you were working, as an adult your qualifying requirements are the same. Children under the age of 18, however, have a different set of categories that allow them to receive the benefit. Growth impairment conditions qualify kids for Social Security disability benefits, and the specific lists under other categories vary for children.
Equally Severe
Very often, your specific disability may not be covered exactly by the Social Security Blue Book. In such cases, it's possible that you can still receive the disability benefits if you can prove that your condition is equivalent to a similar qualifying condition. You need to have substantial support from your physician before presenting your case to the Social Security Admiration. Many people obtain the services of an attorney to submit their case, but you can do it yourself with the proper documentation from your doctor that shows your condition prevents you from working.
Proving Your Case
After reading the comprehensive list of qualifying disabilities, you then must apply for the benefit through a local Social Security field office or State agency, referred to as disability determination services, or DDSs. You can apply by phone, in person, by mail, or through an online application process. The DDS makes the determination on your eligibility based on investigations and your own doctors' assessments. If your condition meets the requirements of a qualifying disability, you can begin receiving checks.