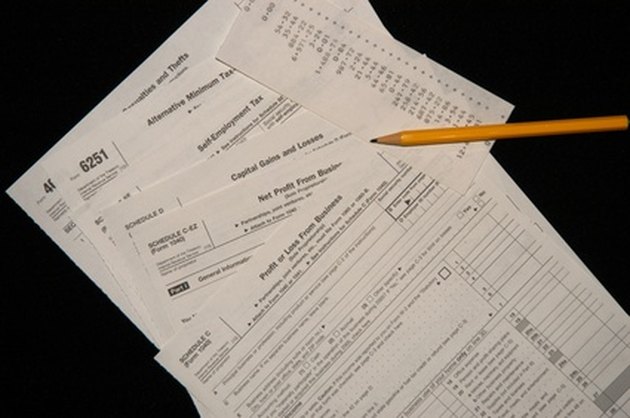 Businesses use the Internal Revenue Service (IRS) 1099 form for reporting the income of independent contractors and other service providers who are not considered employees and do not have taxes withheld from their paycheck. When filing 1099 forms, make sure that you are filing the form for the current year, as forms used for the previous years will not be acceptable to the IRS.
Step 1
Download 1099 forms for the current year from the IRS website. Click on the link that says "Forms and Publications." On that page, click on the "Form and Instruction Number" link and scroll through the page numbers until you find the 1099 form you are looking for. Note that several 1099 forms are available from 1099-Misc to 1099-DIV and all schedules in between.
Step 2
Order 1099 forms from the IRS website and have them sent directly to your home through the U.S. mail. Go to the "Forms and Publications by U.S. Mail" link and click the "Online Ordering for Information Returns and Employer Returns." If the form for the current year is not available, the IRS will hold your request until they become available.
Step 3
Visit your local IRS office and request 1099 forms in person. Find out where your local IRS office is by searching the IRS website under the "Contact My Local Office" link.
Step 4
Go to the library and look for the forms in the lobby where other materials such as free newspapers are located. Ask the reference librarian at the main desk for assistance if you can't find them easily. If they don't have any 1099 forms available, ask where the nearest location might be. In many cases, the librarian will call ahead to make sure they have what you are looking for.
Step 5
Stop by the post office to see if forms are available. 1099 forms are often set out for the public during the tax season. If you do not see the forms available, ask a postal worker if they have any copies of 1099 forms for the current year.
Step 6
Purchase 1099 forms from office supply outlets or through online retailers, many of whom sell bulk forms for businesses.
Step 7
Fill out and print the form online at IRS.gov.