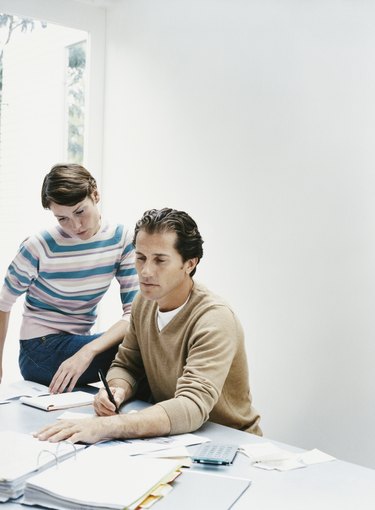 The IRS has allowed taxpayers to order free account information by mail or phone for years. However, these methods were never known to be very swift. Recently, the IRS launched an online tool that allows people to access the same information online. This quick and free option is an efficient way to receive balance information in just a few minutes. As of 2015, this online tool is available only to individuals. Businesses must still call the IRS or use Form 4506-T to request balance information.
IRS Website Tools
The IRS hosts a convenient set of online tools on its website at www.irs.gov. One of the tools available is an online delivery method for transcripts. This is the tool you'll need to access your IRS balances online. To find it, simply go to the IRS homepage and look for the "Tools" section, displayed near the middle of the page. Click the link that says "Get a Transcript of Your Tax Records".
Create an Account
To access your records, it's best to create an account. You can access your records as a guest, but you need to confirm your identity each time you want to check your balances. However, balances change often due to interest, penalty and payment adjustments. When you create an account, you can check for new information as often as you like without going through the identification process each time. You must provide basic information to establish your identity, as well as answer some third-party questions that only you know the answer to, such as prior employment information, a previous address or mortgage information.
Confirmation Code and Login
Regardless of whether you want to create an account or access records as a guest, after you enter basic information to establish your identity, including your name, Social Security number, address and filing status, the IRS sends a confirmation code to the email address you provide during the account registration process. The code should arrive within 10 minutes. Do not navigate away from the confirmation code screen to check your email. You need to enter the code you receive on this page. Navigating away from the screen makes the code invalid, and you have to request a new one. Instead, open a new tab or browser window to check your email. After you enter the code you receive, you'll be asked for additional information to confirm your identity and establish your account. At this point, you also have the option of proceeding as a guest instead of creating an account. If you create an account, you only need to go through the confirmation code process once.
Select Your Transcript
Once you are logged in to your account, you can choose from several types of transcripts to view information in your IRS records. To view balances, choose "Account Transcript." An account transcript provides details about tax assessments, penalties, interest and credits to your account. You can also find the amounts of any refunds issued to you; if any of your refund is offset for a debt you owe, you can see the amount that was subtracted for the debt. Account transcripts are available by year, so if you have balances or need information for more than one year, you need to click the link for each year separately to get all the information you need. Your transcripts are available for immediate online viewing, and you can print or save any transcripts available in this online tool.