Budget shortfalls at the United States Postal Service have changed the staffing at local post offices. A postmaster can be assigned to several post offices. Daily operations are handled by a clerk or an officer in charge, often abbreviated as OIC, when a postmaster is not present. One of these individuals can help you in most cases or inform you of the postmaster's schedule and contact information.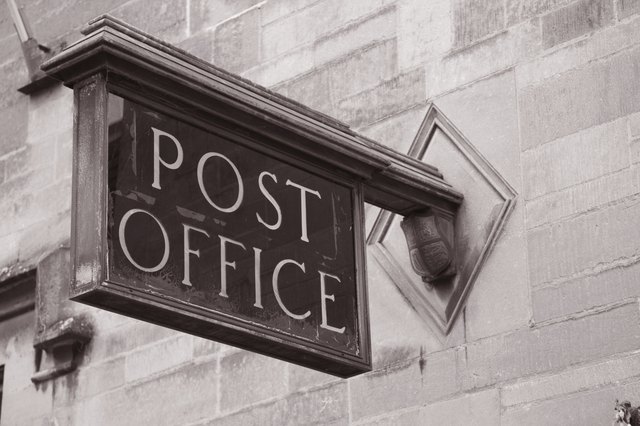 credit: KevinAlexanderGeorge/iStock/Getty Images
Visit In Person
Drive to your local post office and ask to speak to the postmaster. Be aware that rural post offices may have limited business hours and close for lunch. Window hours vary because they are based on the highest volume time for the particular office. Office hours are posted and clearly visible on the front door.
Telephone
Look under government offices in your local phone directory. However, not every post office lists its direct phone number. You can call the 1-800- ASK-USPS (1-800-275-8777). In addition, your mail carrier will know the phone number of your local post office. The Inspector General has a Hotline, 1-888-877-7644, to report postal fraud, waste or abuse.
Email
Go to usps.com and click on the "Track & Manage" tab. Information you fill in here is forwarded directly to your local post office. You can give special delivery or hold instructions, and change your address. Either the postmaster or person in charge must handle and resolve your issue the next business day. You can file a complaint or other issue using the "Help" tab. These issues can take three business days to get to your local postmaster.
Written Request
Leave a note in your mailbox or tape a note to your mail slot asking the carrier to have the postmaster call you. You can reach the postmaster by addressing an envelope to Postmaster, Box 9998, Your Town, Your State, Your zip code. Box 9998 is the code for postmaster at every United States post office. In addition, you can contact "The Honorable Postmaster General," United States Postal Service, 475 L'Enfant Plaza SW, Washington DC 20260-0010.