Because financial data such as company balance sheets and income statements are readily available on the Internet and from various financial news outlets, you generally don't have to perform your own accounting calculations to help you evaluate the investment potential of individual companies. However, the actual calculation for book value per share is reasonably easy to compute, so if you have the desire, you can make your own computations based on information that companies are required to report.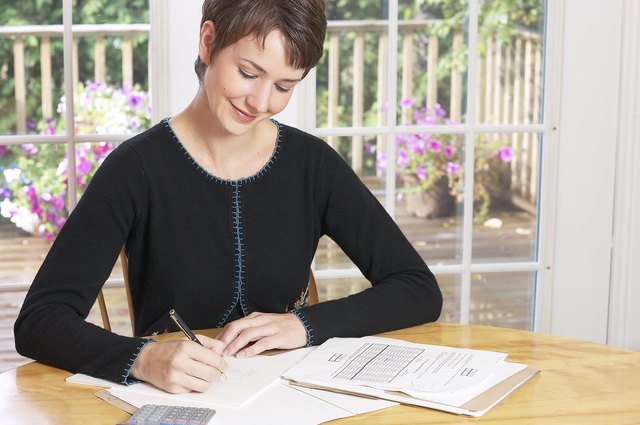 credit: Photos.com/AbleStock.com/Getty Images
Step
Find out what the company's tangible and intangible assets are. In the simplest terms, assets are what a company owns. Specifically, assets are all those items that a company can convert to cash or otherwise use to make payments. Tangible assets include items that can be physically touched, such as buildings, inventory or equipment. Intangible assets are nonphysical items such as copyrights, trademarks or patents. Because it would be almost impossible for you to calculate a company's asset valuation on your own, you should contact the company's investor relations department and ask for a copy of the most recent quarterly and annual reports. By law, publicly-traded companies are required to fully disclose their assets via their financial statements, specifically their balance sheets. While book value per share is most likely disclosed in these statements as well, if you want to make your own calculation, start with the company's total assets, divided into tangible and intangible.
Step
Record the company's total liabilities. For accounting purposes, a company liability is an obligation arising from past events; in other words, liabilities are debts that companies owe based on past transactions. Liabilities range from wages due to employees, to payments due to suppliers, to bonds issued to investors. As with a company's assets, liabilities must also be listed on the company's books and will appear in the annual and quarterly financial statements.
Step
Determine the company's total number of outstanding shares of stock. Outstanding shares include all stock issued by a company that has not been repurchased or retired. Looking at a company's financial statements, you can usually find an entry listed as "Capital Stock" on the balance sheet. This is the outstanding share number you should use, not a company's "authorized" share number.
Step
Decide whether you want book value per share or tangible book value per share. Book value per share equals total assets minus total liabilities divided by total outstanding shares. This calculation is often modified to exclude intangible assets, because they are not readily convertible to cash, in which case the calculation is called the tangible book value per share. Take the information you gathered regarding the company's assets, liabilities, and outstanding shares and plug them into the formula to obtain your answer.