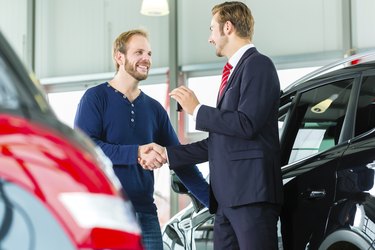 Extended car warranties are typically sold as additional protection for buyers of both new and used cars. These warranties cut down on the risk of big-ticket repair jobs that the manufacturer's warranty may not be cover. Dealerships, auto clubs, insurance companies and other entities offer these extended warranties to their customers and club members. Warranty holders grade providers based on the amount of coverage, the responsiveness of their claims adjusters and the level of help and support they provide.
Endurance
Endurance offers extended warranty coverage for vehicles with up to 150,000 miles on the engine and up to 15 years old, a range much higher than the industry average. Endurance handles all of its warranty claims in-house, unlike other warranty providers who outsource their claims processes to third-party companies. Endurance won the TopTenREVIEWS Gold Award for 2014. The only major drawback noted in its reviews was that, while the company offers responsive telephone and email customer support, it does not include live chat on its website.
Carchex
Carchex has been one of the leaders in the extended warranty industry for more than a decade. Carchex offers five plans (Titanium, Platinum, Gold, Silver and Bronze) with varying rates and levels of protection. Carchex does not handle the warranty claims but functions as a broker for customers seeking extended-warranty services. The major positive factor in many of the company's reviews was its lack of high-pressure sales pitches, which earned the company the 2014 Silver Award from TopTenREVIEWS .
Warranty Direct
Warranty Direct offers six different plans, all of which include roadside assistance, with varying rates and levels of protection. Plans start with the PowerShield plan, which covers the basic powertrain components, all the way up to the LuxuryCare package, which covers electronic components such as the GPS and DVD player. Warranty Direct allows customers to deal directly with the company for their claims and offers more than 30 years of experience in extended auto warranty service, earning the company the 2014 TopTenREVIEWS Bronze Award.
AA Auto Protection
AA Auto Protection (not to be confused with the American Automobile Association, or "AAA") acts as a broker between customers and extended-warranty providers. AA helps customers shop for extended warranties but does not handle the claims process. AA Auto Protection was also the first extended-warranty broker to allow customers the chance to read over the full contracts to every protection plan they carry, allowing customers to view firsthand which repairs their warranties would cover.
EasyCare
EasyCare received several favorable reviews for its extended warranty coverage. EasyCare pays the repair shop for its customer's repairs with a corporate credit card, allowing quick and easy payment processing for both its customers and participating repair shops. EasyCare has also been in the extended-warranty industry for nearly 30 years, so customers can be assured that they can rely on the company to stand on their reputation for decades of quality customer service.