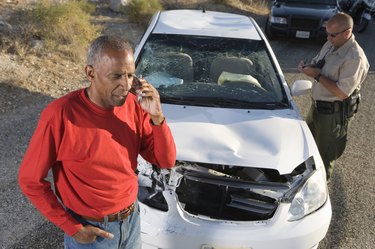 If you're injured in an auto accident that wasn't your fault, you have no guarantees that the other driver has bodily injury insurance to cover your medical bills. If the driver has no insurance or is underinsured, you could take a big financial hit. If you want to protect yourself, you can add uninsured or underinsured motorist coverage to your own policy. In some states, you can wrap this protection across multiple vehicles as stacked coverage.
UI/UIM Coverage Overview
UI/UIM coverage kicks in if the other driver has no insurance or if his coverage isn't enough to meet your medical expenses. It also gives you protection from hit-and-run accidents. For example, if the other driver has $25,000 of coverage, but your medical bills exceed that amount, your insurer would pay the extra, subject to your policy's terms and conditions. Unlike regular health insurance, UI/UIM coverage doesn't come with co-pays or deductibles, and you may be able to claim for pain, suffering and lost wages. Typically, you buy coverage to a set limit per vehicle.
Stacked Vs Unstacked Coverage
If you have unstacked coverage, you have UI/UIM protection on one vehicle. If your limit per person is $50,000 and your limit per accident is $100,000, this is the maximum your insurance company pays. If you stack coverage, you extend it across more than one vehicle, giving you access to higher limits. For example, if you stack across two cars, each with a $50,000/$100,000 limit, you double your potential coverage to $100,000/$200,000. If you have an accident in either vehicle, you can claim up to the combined stacked limit.
Advantages and Disadvantages
Unstacked auto insurance is cheaper than stacked insurance, but it may not give you enough coverage for your needs. Stacking incurs additional costs, because you're effectively increasing your coverage by combining individual car limits. However, stacked coverage gives you the benefit of a higher claim limit if you need it without increasing your per-vehicle liability limits. This could be useful if you're seriously injured and have to deal with significant medical bills and injury-related costs.
Auto Insurance Stacking Considerations
Not all states allow auto insurance stacking, and those that do have their own coverage rules. This may affect the number of vehicles you can stack and your liability limits. For example, Alabama only allows you to stack up to three vehicles on one policy, as of publication. If you want to stack more cars, you must use multiple policies. Some states also allow insurers to write anti-stacking clauses into their policies. This may restrict your coverage and claim limits, so it's important to talk to insurers to check your options before you buy.