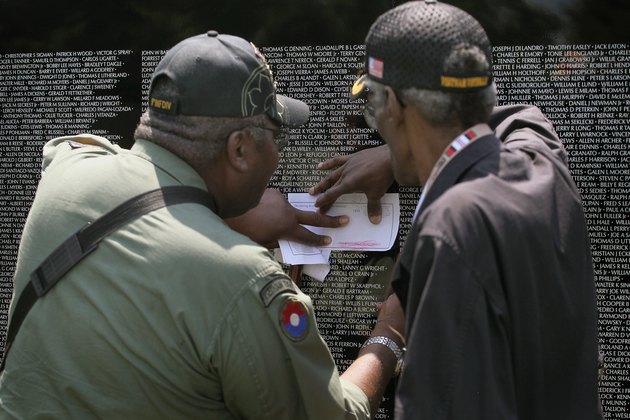 While Vietnam War veterans are eligible to receive the standard benefits offered to all veterans of the United States military -- including home loans, pensions and burial -- they can also receive benefits directly related to their service "in-country." That term refers to those who actually served in Vietnam, rather than outside the area of hostilities during that era. Most federal benefits specifically aimed at Vietnam War-era veterans deal with exposure to Agent Orange.
Agent Orange Compensation
Agent Orange, an herbicide used to kill ground cover and foliage, was used widely by the U.S. military during the conflict. Unfortunately, that's not all it killed -- the chemicals in Agent Orange were found to cause fatal or chronic medical conditions. Vietnam veterans are entitled to a free medical examination to determine whether Agent Orange exposure contributes to health problems. If the vet suffers a disability considered Agent Orange-related, he is eligible for disability compensation, with the amount based on the severity of his health issues. The survivors of Vietnam vets exposed to Agent Orange who died from related diseases might receive compensation, health care services, education benefits and home loan eligibility.
Birth Defects Compensation
Agent Orange could be the cause of birth defects in veterans' children. The biological children of Vietnam war vets suffering from spina bifida or other birth disorders are eligible for certain compensation. The parent must have served in country from January 1962 to May 1975 to qualify. This benefit is available to affected offspring no matter the length of the veteran's service or the discharge condition. Documentation for eligibility includes a birth certificate -- for determining the approximate conception date -- and a medical diagnosis of spinal bifida or qualifying birth defect. Eligible offspring might receive monthly compensation, job training and health care coverage.
Proof of Exposure and Eligibility
While the Department of Veterans' Affairs presumes that vets who served in-country were exposed to Agent Orange, the herbicide was used or stored in other areas, including military bases. Those veterans who were not physically present in Vietnam or its inland waterways must prove they were in a location with potential Agent Orange exposure to qualify for benefits. Veterans discharged under dishonorable conditions are ineligible for Agent Orange benefits. To receive benefits, a veteran must have a medical diagnosis of an Agent Orange-related disease, such as AL amyloidosis, diabetes mellitus type 2, certain forms of leukemia, Hodgkin's disease, non-Hodgkin's lymphoma, multiple myeloma, Parkinson's disease and various cancers.
Applying for Benefits and Compensation
Eligible Vietnam veterans can apply online through the VA's eBenefits website, or by downloading and completing VA Form 21-526EZ, Application for Disability Compensation and Related Compensation Benefits, and mailing it to a local VA office. Vets can also visit a regional VA office for application assistance, or work with a VA-accredited attorney or service organization to file the claim. Survivors should fill out VA Form 21-534EZ, Application for DIC, Death Pension, and/or Accrued Benefits, or VA Form 21-534a, Application for Dependency and Indemnity Compensation by a Surviving Spouse or Child. The surviving spouse must remain unmarried for eligibility. A veteran's compensation depends on his disability percentage, ranging from 10 to 100 percent, along with the number of his dependents.
State Benefits
Your state might offer special benefits to Vietnam vets. New Mexico, for example, offers a scholarship for residents living in the state at least 10 years who received the Vietnam service or campaign medal upon discharge. This scholarship pays for the veteran's entire tuition and books at state institutions of higher learning. In Illinois, a Vietnam vet's survivors receive $1,000 upon his death if he succumbed to a service-related illness. To find out what benefits are available in your state, contact your state's department of veterans' affairs.