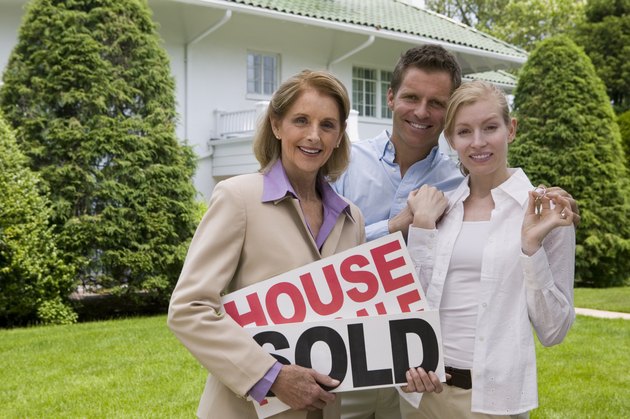 A house provides shelter from the elements, and it can also provide shelter from the taxman. Whether it's a traditional single-family house, a condominium, a co-op or a mobile home, purchasing and selling a dwelling offers substantial tax breaks. Taking advantage of those breaks means itemizing on Schedule A, rather than taking the standard deduction, but those tax savings may more than justify the extra effort and record keeping.
Mortgage Interest
Up to $1 million in mortgage interest on a home purchase is deductible on federal tax. Lenders supply Form 1098, which shows the amount paid the previous year; if the house was purchased during that year, the amount is listed from the closing date. Interest on a home equity loan is also deductible.
Deductible Points
Some lenders require the buyer to pay points -- an extra charge that is a percentage of the loan -- to get a better rate. Even if the points are paid by the seller, the amount of the points is deductible by the buyer in the first year as long the loan meets the requirements and the buyer makes a payment at closing that is equal to the amount of the points.
Property Taxes
Annual real estate taxes are deductible from federal taxes. Buyers who pay those local property taxes through an escrow account should receive a statement from the lender showing the amount paid. If the buyer pays the taxes directly to the municipality, the town clerk can provide a statement for the year. In some cases -- senior citizens' refunds, for instance -- portions of real estate taxes are reimbursed the following year. When that is the case, the reimbursed amount must be added to the tax return as income.
Energy-Saving Improvements
Tax credits -- rather than deductions -- up to $500 are available for 10 percent of the cost of energy-efficient improvements including insulation, roofs, doors and windows, furnaces, and water heaters. More elaborate energy-saving improvement, such as solar-powered generators, could qualify for a tax credit of up to 30 percent of the expense.
Profits from the Sale
Buyers should anticipate selling the home some day. Selling a house allows the seller to exclude large portions of the profit from taxation, under certain conditions. As much as $500,000 of the profit of a sale can be tax-free depending on the marital status of the sellers and how long they lived in the dwelling. Profits that exceed those limits must be reported as capital gains, but another tax benefit upon a home sale is credit for improvements such as additions and landscaping. These costs can be used to offset some of the capital gains.