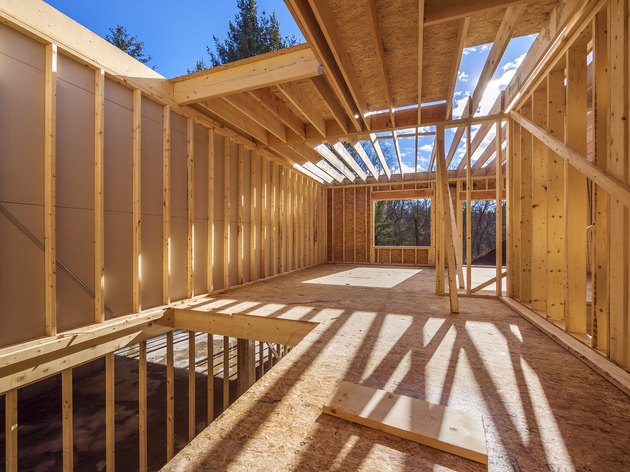 Building a house allows you to customize your new home specifically to your lifestyle. Choosing the latest building materials and technology can help save money in other areas, such as energy costs. However, a major disadvantage to building your own home is the relatively high cost of hiring contractors. Building a custom home usually takes several months, or more, and unforeseen expenses squeeze your budget. Custom homes typically cost twice as much to build as existing homes in the same area, plus the cost of the land.
Factors Affecting Building Costs
The national average cost of building a two-story, 2,500 square-foot home is $125 per square foot. This estimate includes mid-range materials, efficient windows and doors, turnkey finishings and appliances. It does not include the cost of land or furnishings.
Although you can estimate the cost of building a home by square footage, it's generally not a good way to calculate home building costs, according to The Wall Street Journal. That's because several variables affect the final price of building a home, including:
Quality of building materials, appliances, fixtures and major systems, such as heating and cooling

Unique features, such as vaulted ceilings and irregular-shaped rooms, which affect material and labor prices

Site location, which affects the difficulty and expense of delivering materials
Contractor markups or materials and labor
Tip
Use an online calculator to adjust for variations in building materials, labor and location. These calculators provide only a rough estimate of the costs, as contractors ultimately determine the price of a construction project. Examples of building calculators include:
Architects and Contractors Account for A Major Part of the Budget
Most homeowners need an architect and a contractor. An architect accounts for anywhere between 2 percent and 15 percent of constructions costs, according to CostHelper.com. Architect responsibilities include determining the scope of the project, drafting house plans, serving as project manager and obtaining building permits.
A contractor can account for more than 50 percent of your construction costs. Contractors provide services and materials, hire subcontractors and perform daily management of the construction project. Contractors mark up the cost of labor and materials to cover their overhead costs and salary. You can expect a contractor to mark up the actual costs by at least 50 percent. According to House Logic, shopping for your own materials can save 10 percent to 20 percent on a project.
Typical Subcontractor Service Fees
A building project requires a team of specialized workers, known as subcontractors. Plan to include the following subcontractors and their costs in your budget:
Carpenters, excavators,masons -- about $70 per hour

Electricians -- $65 to $85 per hour

Painters -- $20 to $35 per hour

Plumbers, -- $45 to $65 per hour

Create A Cushion
Keep a contingency budget of 10 percent to 20 percent of the estimated construction costs. The scope of the project can change as unforeseen obstacles arise during the home building process. Or a contractor may not account for certain costs upfront. According to Top10Reviews.com, these expenses may include landscaping, sprinkler systems, fencing and post-construction cleanup.