You will need to pass a credit check to get a Chase credit card. Before applying, decide which of their cards best meets your needs. Chase cards feature different reward programs, including cash back, airline bonus miles and restaurant points. Chase also has specialty cards for certain gas stations, hotels, airlines or other businesses -- including Disney.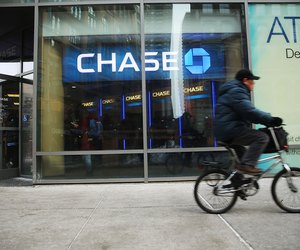 credit: Spencer Platt/Getty Images News/Getty Images
Pre-Qualification
Chase will ask for certain information online -- including your name, address, birth date and the last four digits of your Social Security number -- to see if you pre-qualify for a card. When you give Chase this information, you are allowing them to conduct a credit check. While Chase reviews your credit history through one of the three major credit reporting bureaus, the pre-qualification application itself won't affect your credit score. In most states, you must be at least 18 years old to apply for a Chase card. After you submit a formal credit card application, Chase decides whether you qualify. It also reserves the right to change any of the benefits offered by a particular card. Since it is based on your credit history, Chase might approve you for a card with costs differing from the card for which you applied.