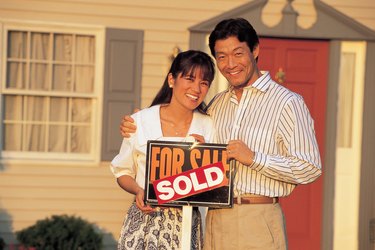 Buying a home without using a real estate agent requires preparation, research and diligence. Doing it on your own is legal, and it appeals to homebuyers who are ready to deal directly with a seller or the seller's listing agent. It can save both sellers and homebuyers money, as sellers may be willing to give you a better price if they don't have to pay a buyer's broker commission.
Get Loan Pre-Approved
Once you have chosen a location and calculated how much house you can afford, get pre-approval for a loan. While this is good advice for all homebuyers, it is particularly important if you don't have an agent. The seller will appreciate knowing you can pay for the house and you are making a serious offer. Making an offer without loan pre-approval and without an agent may give the impression that you're unprepared or unaware of what the purchase entails. Provide your prospective lender with proof of your income, your credit score and all financial documentation. Submit your lender's pre-approval letter along with your offer.
Search and Select
Use the Internet and newspaper ads to find houses within your price range. Look for homes designated as "For Sale By Owner," or FSBOs, but you don't have to limit yourself. Even if a house is listed with a broker, you can contact or email the owner or his broker directly to ask for a showing. Attend an open house or call the listing agent and ask to see the house. Be sure the listing agent understands you are not using an agent. Get a property valuation report from an online resource to determine how the home's asking price compares to recent sale prices in the area. Because a buyer's agent routinely analyzes market data to promote the best interests of the buyer, as a buyer without an agent, you must research comparable sales to avoid overpaying or running into appraisal problems.
Hire a Lawyer
Real estate lawyers prepare contracts, perform title searches and handle the closing. Some states require the use of an attorney, but even in those that don't, a real estate lawyer can walk you through the closing process and explain paperwork, such as seller disclosures, and give you legal advice, which a real estate agent cannot do. If you're concerned about expenses, you can hire a lawyer for a specific number of hours or to perform particular tasks only.
Make an Offer
Make an offer based on the comparable sales, the home's condition and the fact that you are not using an agent. The seller generally pays the commission for his own agent as well as a buyer's agent. Be sure the seller knows that your offer is less than the asking price because he won't have to pay a buyer's agent commission. The seller may be willing to accept an offer that's lower than the asking price if he doesn't have to pay the typical buyer's agent commission of 2.5 or 3 percent.
Get an Inspection and Appraisal
Another professional you will need, even without an agent, is a licensed home inspector who reports on the condition of the home. Inspectors investigate whether the house and any renovations are up to health and safety standards. If the inspection reveals problems, you could have grounds for renegotiating your offer. After the inspection, your lender will set up an appraisal to inspect the home for defects and determine the home's market value for financing purposes.