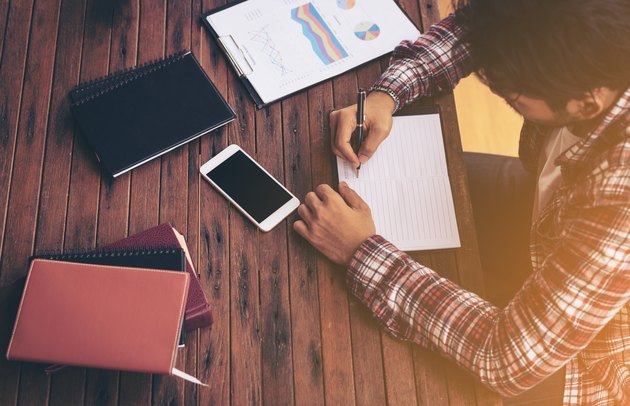 When I made the switch from a full-time job working in a hospital to full-time freelancing, I was completely unprepared. I got a "yes" from a new anchor client (someone committed to sending you steady business) and the very next day I put in my two weeks notice. Along the way, I have learned a lot about the right ways to get ready to freelance full-time. Are you itching to break-up with your employer and make the leap to self employment? Here's how you do it:
1. Make a brand new budget
Even if you have already been living on a budget, everything changes when you're self employed. Long before you make the switch, sit down and outline any changes to your expenses that could come with full-time freelancing. This should include paying for health insurance out-of-pocket, quarterly self employment taxes, hiring an accountant and any supplies or equipment you need to get your job done.
2. Live off your freelance income
Once you have a budget in place, start living off what you are making as a freelancer. Can you get by, month-to-month, if your income doesn't immediately increase after quitting your day job? Can you depend on your clients to pay you on time? These are things you need to know before you let go of your full-time income.
3. Save 3 to 6  months of expenses
Even if you have great clients that provide you with plenty of work and always pay on time, it is important to know that the world of freelancing isn't consistent. You may lose clients you once thought would never leave you or a check you were waiting on could get lost in the mail. Be prepared for fluxes in your income. While you are living off of your freelance income, put away everything you are making at your day job in an emergency fund.
4. Set up an office
Working at your kitchen table might be working for you on nights and weekends, but when your full-time job is done at home, you will need a designated space to work. Before you quit your job, set up an office in your home, even if it is a corner of your living room or a small desk in your kitchen.
5. Make plans for your future
Self-employment may be the dream, but there are some downsides you have to consider. One of the biggest hurdles I have faced is planning for my future. When you no longer have an employer-matched 401k, will you be able to adequately save for your retirement? Consider meeting with a financial planner to talk through the best way to approach this issue before you quit your job.