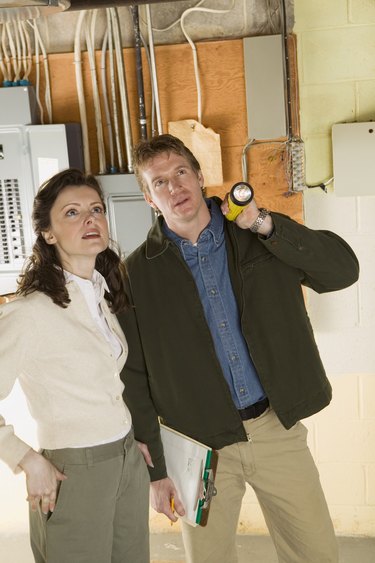 An appraisal is a professional appraiser's unbiased and impartial opinion of value based on the condition of the property, prevailing real estate prices and other factors. You may need the services of a licensed appraiser if you are selling your home yourself or if you want to know the value of your home for refinancing purposes. Prepare a short list of appraisers using the search tools at the Appraisal Institute, the American Society of Appraisers and the Appraisal Subcommittee. The important questions are about education and licensing, relevant experience and appraisal methodology.
Step 1
Ask an appraiser about his education and licensing. Federal law mandates state certification for most appraisers. The two basic licenses are Certified Residential Real Property Appraiser and Certified General Real Property Appraiser. Residential appraisers may need an associate degree and commercial appraisers usually need a bachelor's degree.
Step 2
Evaluate the appraiser's experience. Ask him for his resume and a list of two or three references. The resume may be on the appraiser's website. The references should be current or previous clients, and at least one should be from the community. Follow up with the references for your selected candidate.
Step 3
Verify the appraiser's experience working with homeowners. This is important because loan officers usually have different requirements than individual homeowners. Loan officers are typically looking for an assessment of the condition of the house and a rough market value to put on the mortgage documents. Homeowners may have questions about the appraisal process itself and may ask the appraiser for tips on how to improve the valuation.
Step 4
Ascertain the appraiser's knowledge of the area. Test her understanding of community issues, facilities, property types and recent home sales and prices in your area. Community issues may include rezoning and redevelopment. Facilities include schools, parks and shopping centers.
Step 5
Assess the appraiser's experience with your property type. For example, if you are looking for an appraisal on a suburban multiunit investment property, someone with experience appraising downtown condominiums might not be a good fit. If you are planning to list a three-bedroom bungalow for sale, look for candidates with expertise in that kind of property.
Step 6
Ask the appraiser about his appraisal methodology. Appraisers normally use in-house databases of recent sales and price trends to compile valuations. They may supplement that data with information on the Multiple Listing Service, which is what real estate agents use to list and search for properties.
Tip
Real estate agents and brokers do not necessarily have appraisal training and are likely to use prevailing market prices to determine a property's value, which may not accurately reflect the true value of your home. This means that you may wish to hire an appraiser even if you are using the services of a real estate broker.