Lithuania may not be a top destination for many North Americans, but living in Europe and having a close Lithuanian friend, it was high on my list for a long weekend away. Nestled between Poland, Latvia, Belarus and that small bit of Russia that sits on the Baltic Sea, Lithuania is the southernmost of the three Baltic countries, and the farthest East I have traveled so far in Europe.
Landing in Kaunas, we didn't stop to explore as we arrived quite late, instead driving to Saukenai, a relatively small village located about 30 minutes from Lithuania's fourth largest city of Siauliai. This is where my friend's parents live, so we scored a free night's lodging. Breakfast was also on the house with her family. We feasted on fresh produce from the garden, eggs from the hens, local sausages, breads, and cheese. While the small farm houses and lake were picturesque, we were soon on our way to our next stop along the Baltic Sea.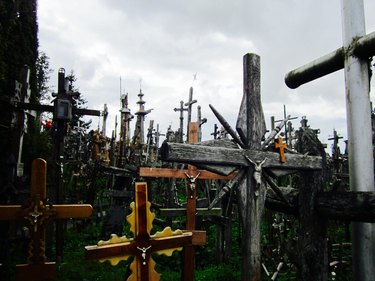 On our way to the coast, we stopped at the Hill of Crosses – a local Catholic pilgrimage site and tourist attraction. No one is exactly sure when people started leaving crosses here, but there are thousands in all shapes and sizes. We saw locals coming after their weddings and christenings to leave a cross to mark the occasion. Entry is free, if you want to leave a cross, you can buy one from as little as €1 ($1.10).
Our next stop was a traditional Lithuanian Farmhouse restaurant whose lawns contained dozens of carved wooden creatures and thatched buildings. Here we sampled the national dish 'cepelinai' or zeppelins – a meat-stuffed potato dish topped in a sour cream sauce, as well as other meat and potato dishes and some fried bread with cheese – the preferred local snack when you're having a beer. Lunch with 2 pints came to €7.50 ($8.25) a person, and was so filling that we didn't really need much of a dinner later.
Palanga, the Baltic coast resort, is a traditional 'beach town' made up of bars, restaurants and arcades for the kids. We stayed in a hotel on the main thoroughfare for only €100 ($110) for room and breakfast as it was off-season. Palanga is reportedly hopping in the summer, but since it was the off-season, people were content casually strolling up and down the promenade by the sea. My largest splurge here was on a mammoth 1 litre cocktail for €12 ($13.20). Not very alcoholic, but couldn't resist the photo ops!
The next day we made our way to the capital, Vilnius. Staying just outside of the Gates of Dawn, we were a 2-minute walk from the old town, but didn't pay old town prices. For €65 ($71.50) a night, our accommodation was basic, but clean, and included breakfast. Vilnius is quite cosmopolitan with streets full of designer shops and top class restaurants. On our first night, we splurged and ate in a trendier restaurant called Dublis. The restaurant has two sections, we ate in the more casual one. The food was tasty and well-presented. One pre-dinner drink, three courses and a shared bottle of wine came to €50 ($55) per person.
We spent our second day in Vilnius being tourists. Vilnius has a beautiful old town peppered with many churches – both Catholic and Orthodox – all of which are free to visit. If you only manage to see one, make it the beautiful gothic St. Anne's Church. Local legend has it that Napoleon wanted to take the church back to Paris with him after seeing it during the Franco-Russian war in 1812.
We also walked to the top of Gediminas' Tower, which is where Gediminas – one of the Grand Dukes of Lithuania - built his first 'castle', a wooden fortification in the 15th century. Climbing to the top is free, or there is a funicular for €1 ($1.10) each if you'd prefer. We choose to ride it down to give it a go – though I'd imagine taking it up would be a better investment. Access to the brick tower at the top is €5 ($5.50), but I'm not sure it's worth it, as there's not much to see and the hill is already high enough to be a good vantage point for the old town. Our final stop was the Palace of the Grand Dukes at the base of the hill. Entrance fees were €3 ($3.30) a person. The building was well laid out and delivers a whirlwind tour of Lithuanian history, which admittedly, I knew little about before this visit. The entrance fee is good value for the amount of time you can spend in the building going over all the exhibits.
Our last stop was Trakai Castle, which is about a 20-minute drive from Vilnius. This is a gorgeous reconstructed medieval castle that sits on an island in the middle of a lake. The €6 ($6.60) entry fee was well worth it if you're a typical American like me who loves a good castle! The tour outlines the history of the area and the castle, and also includes several exhibits of artefacts from Lithuanian History. We finished up by having lunch in the town – another €10 ($11) meal, including drinks – before heading to the airport and home.
All in all, I was pleasantly surprised by the value Lithuania offered. Great food, warm people, beautiful countryside scenery, and a gorgeous old town in the capital.
Total Expenditures:
Flights: €100 ($110) per person Ryanair
Rental car & gas: €85 ($93.5) per person (split by 2)
Accommodation: €115 ($126.5) per person (split by 2)
Food & drinks: €215 ($236.5) per person
Tourist attractions: €15 ($16.50)
Top Tips:
Eat like the locals and enjoy the local cuisine , as our average meal price with a drink or two was €10 ($11), though you better like meat and potatoes!
If you're coming from the States, we'd recommend adding in the rest of the Baltic states to get more bang for your buck. Take advantage of the many low cost airlines to cut down on journey time between destinations.