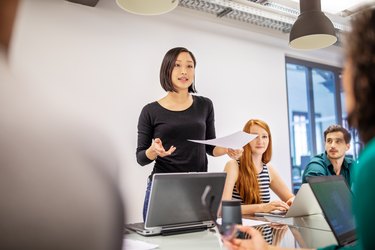 Robots may not be coming for every job, but the way we behave at work, sometimes it feels like that's not so far off. For decades, we've discouraged any display of unpleasant emotions connected to our professional identity, even though the workplace takes up a huge chunk of our emotional bandwidth. When it comes to getting support and making your case, however, that might be holding you back from your best opportunities.
Researchers at Washington State University have just released a study looking into how entrepreneurs use emotion to score funding from investors. Specifically, they studied nearly 500 videos from Kickstarter campaigns asking for donoations. You'd think the most successful candidates rely on relentless positivity, but instead, those who displayed a variety of emotions (namely, happiness, anger, and fear) while pitching their product tended to have the most success.
"[A]n angry facial expression can convey how much you care about something, instead of just smiling, which on the extreme end can come off as insincere or overoptimistic," said lead author Ben Warnick. "It's good to balance that out. There are different reasons for using different expressions."
Everyone needs to know how to persuade others, whether it's to land a job, fund a project, or lead a team day to day. There's a lot to be said for bringing your emotional intelligence to work, especially when it's doing its best to protect you. Too much positivity when you're not feeling it can be toxic — or at the very least, it won't say what you know is important to say.