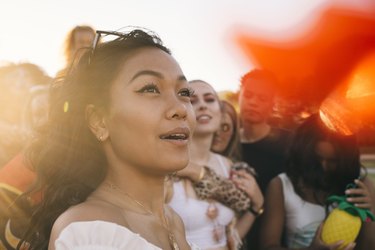 The COVID-19 pandemic is by no means over, but the United States is finally making good progress on getting it under control. That's in no small part by widespread adoption of mitigation measures like social distancing and mask-wearing, as irritating and heartbreaking as they can be. For fully vaccinated adults, the Centers for Disease Control and Prevention just dropped some great news about outdoor activities — just in time for summer.
If you visit the CDC's Choosing Safer Activities page, you'll find a new series of recommendations on where fully vaccinated adults ought to wear masks outside. "Walk, run, or bike outdoors with members of your household" doesn't require a mask anymore, so no need to hastily pull yours up from your chin as you're walking your dog anymore. Fully vaccinated adults can also attend small gatherings outside with both vaccinated and unvaccinated people, as well as dine outdoors at restaurants.
If you plan on attending a crowded outdoor event, like a live show, a protest, or a sporting event, your best bet is still to mask up — and it's still best practice to wear your mask inside no matter what your vaccination status. But getting this news so soon after the CDC gave the go-ahead on domestic travel (and some international) is a huge break for quarantine-weary Americans. As for other return-to-normal activities, check out the ​New York Times'​ thorough breakdown of expert advice on a number of pastimes, including (yes) whether we can make out with strangers again.