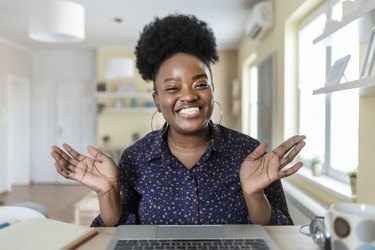 We knew early on in this pandemic that we'd have to drastically alter how we spend money. Whether it was trying to figure out if we should buy a bidet or simply making do with extra-spare grocery shelves, the beginning of COVID was a true shock to the system. One year in, things have gotten better, though not fully and certainly not evenly. Some parts of our budgets remain very different from the Before Times, though.
The website Slickdeals has just released new survey data laying out some of the more lasting changes to our spending habits since COVID. A lot of it comes from reallocating our discretionary funding, since bars and restaurants have been available on a much more limited basis. More than 4 in 10 respondents said that funds usually spent on dining and drinking have instead been turned to home improvement — and more than three-quarters say "they'll spend more time post-pandemic at home because they've fallen in love with their homes."
More than half of us have become more attentive to buying items in bulk or on sale, but at least our panic-buying has diminished. At the beginning of lockdown, 49 percent of Americans copped to hoarding essential goods like toilet paper and cleaning supplies; now it's just 14 percent of us. We're also spending a lot less than we used to on entertainment, instead prioritizing unexpected expenses, as well as our "physical, mental, and emotional well-being."
All in all, three-quarters of Americans say the pandemic has changed their relationship to money permanently. We'll be seeing the effects of COVID on our wallets for a long time to come.