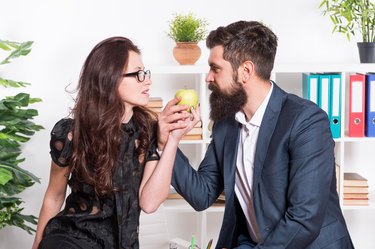 A pandemic can bring lots of things grinding to a halt: whole economies, social circles, maybe even the bad effects of climate change. But COVID-19 has nothing on the persistence of the human heart. One thing that hasn't slowed down since lockdown? The office fling.
The Society for Human Resource Management has just released a monster survey on romance at the workplace. If you've ever found yourself surprised by water-cooler rumors or a quick flirtation in the kitchen, get ready for some impressive numbers. Not only are 34 percent of us currently involved in a workplace romance (or have been in the past), that number was just over one-quarter of us before the pandemic. We are actually getting more brazen as we work from home.
There's plenty of raw feeling to work with out there — about half of survey respondents confessed to harboring a crush on a coworker. Just 1 in 4 makes a move and asks the object of their affection out on a date, though. There are good reasons for that as well: While significant majorities of workplaces do not require disclosing an in-office relationship, the reasons to frown on such a thing seem obvious, from distraction to favoritism to retaliation and harassment.
That said, we may not pursue love on the job because we think it's the best hunting ground. Previous research has found that most office romance stems from seeking stress relief — stress caused, in a majority of cases, by injustice experienced at the office. Make sure you're both fully consenting and not being creepy if you feel inclined to act, but above all, if HR needs to know, be transparent and professional first.