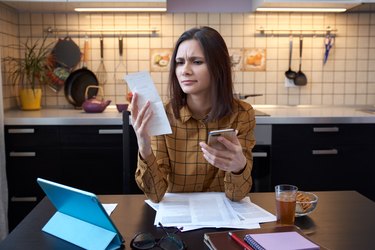 At first, it seems amazing — the freedom, the possibilities, the thrill of your future together! But credit (and the cards that come with it) can drag you down faster than you think, sometimes with years-long consequences. Knowing how to handle yourself in a world that won't let you opt out of credit is worth it, but it comes with a ton of stress.
That's especially true for millennial women, according to a new survey just released by Credit Sesame. One-third of respondents said they don't have a healthy relationship with credit, and almost half said they don't enjoy using credit in the first place. Much of that comes down to feeling tricked by or suspicious of credit card companies and credit agencies; meanwhile, credit ratings are so crucial to big life milestones, like buying property or even applying for jobs, that they cause nearly half of millennial women outsized anxiety about their futures.
Nearly 3 in 10 survey respondents gave themselves a failing grade on credit knowledge, but in some ways, millennial women shouldn't be so hard on themselves — after all, 55 percent also said they were never taught by anyone how to manage credit. Luckily, there are all kinds of resources out there to help everyone better understand how to conquer credit and successfully take down debt.
"When women have fair access to credit, they're able to financially invest in their future — whether that's securing a mortgage for their first home or refinancing their student loans at a lower interest rate," said Credit Sesame's Shazia Virji. Credit can seem intimidating, but with knowledge, all things are possible.