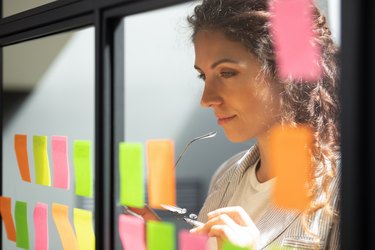 We all like to think that with a little structure in our lives, we might really go forth and conquer. Time management tricks and productivity tips are easy to find, but sometimes when you sit down to plan your day, all of it just falls flat. If you're looking for one simple way to prioritize and delegate, though, the following trick was a favorite of a towering figure in American history.
Dwight D. Eisenhower wasn't just a two-term president, but he was also Supreme Allied Commander during World War II. ​Quartz​ writer Khe Hy discovered a simple, four-square matrix Eisenhower relied on for his decision-making processes and found that it helped him create an efficient workday like no other. The two axes of the so-called Eisenhower Box are importance and urgency. If you draw out a square and divide it into four parts, you can slot your tasks into the following categories:
​Important but not urgent​ — Schedule a time to do this.
​Important and urgent​ — Do this right now.
​Neither important nor urgent​ — Save this for later.
​Urgent but not important​ — Delegate this to someone else.