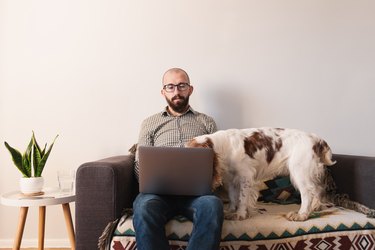 It was a near thing, but at the end of 2020, Americans run roughshod by the pandemic and the ongoing economic crisis got the tiniest of breaks: another small, one-time relief payment from the federal government. Even those who wanted or could use more help were happy to see that money appear in their checking accounts. Not everybody who qualified for the payments has seen them arrive, though.
Millions of taxpayers who have been eagerly refreshing the IRS's Get My Payment tool have learned that their payments may already have been disbursed — just not to their bank accounts. One banking industry source told CNN that up to 13 million people may have seen their stimulus checks paid out into an old or unrecognizable bank account, if they had previously received a stimulus check or managed their tax filing through direct deposit. Other reasons for the error could include changing your bank since your last filing.
According to CNBC, the error arose because of the speed with which the stimulus program was required to disburse payments. The IRS, for its part, says that it's resolved the issue and that the direct deposits should begin appearing in taxpayers' most up-to-date bank accounts shortly. If the error persists up until you file your 2020 tax return, the IRS suggests claiming the Recovery Rebate Credit when you submit. Until then, companies like TurboTax and H&R Block are urging customers to be patient. Banks might take a few days to process the returns, but everyone in the industry is more than aware of the issue.