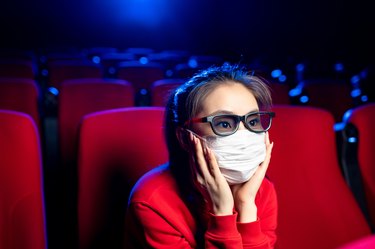 COVID-19 has not been kind to the entertainment industry. We can't go to concerts, live theater, special events, or the movies — but because we're all quarantining at home, we need entertainment, perhaps at higher volumes than ever before. Movie studios have been holding off on blockbuster releases and franchise tentpoles through 2020, but soon you won't have to wait much longer for some.
That's not because it'll be safe to pack the cinemas again come January. Warner Bros. has just announced a bold new plan to keep its profits flowing and its fans engaged: For all of 2021, new releases will also be available on HBO Max on the same day they come to theaters.
This is a dream come true for a lot of movie fans, not least because the Warner Bros. slate for next year includes ​Matrix 4, In the Heights, Dune, Mortal Kombat,​ and ​Space Jam: A New Legacy.​ The studio's ​Wonder Woman: 1984​ is already due out in a similar strategy for Christmas Day, and Disney and Universal have experimented with the concept themselves on their own streaming channels.
Early in the pandemic, HBO Go opened up its archives in a limited way for free, although now that website redirects users to sign up for HBO Max. Pre-COVID, we were all willing to spend just under $40 a month on all our streaming services. With so much of our filmed entertainment moving onto our small screens, however, that number may be about to change.