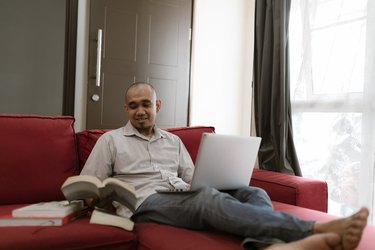 At this point, we'd give just about anything to truly be rid of COVID-19. The pandemic has been keeping us indoors and socially distant, ravaging our economy and our mental health, for the better part of a year. Now that 2021 is just around the corner, we're pinning our hopes on working vaccines in the near future.
The vaccines, of course, won't be widely available even if they are approved quickly. There is a policy measure, however, that could be effective in curbing the coronavirus. Researchers from the University of California San Diego and the University of Chicago have just released a study looking into the role cold, hard cash could play in keeping us healthy during a pandemic.
This spring, the team observed a correlation between median income levels, shelter-in-place orders, and stimulus payments. In other words, when residents of lower-income neighborhoods were paid to stay home — when they didn't have to work to support themselves and their families — they were more likely to abide by public health protocols that keep everybody safe.
It's not a 100-percent perfect strategy, but its effects are notable: "When they did head out, people in counties where most had received stimulus checks traveled less than people in counties where most checks had not yet arrived," the study authors write.
Winter is coming in the Northern Hemisphere (get your flu shot!), and while experts are skeptical that a new federal stimulus package, like March's CARES Act, will come before January, this sort of research might help to start some conversations.