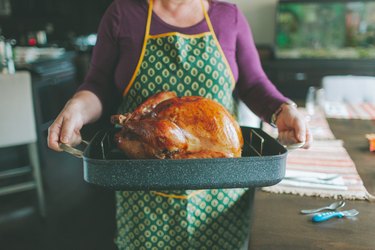 The busiest travel day of the year is coming up, and with 2020 going the way it has, a lot of us would surely welcome the chance to kick back with turkey, mashed potatoes, and more pie than you can shake a stick at. This deep into a combination pandemic/economic collapse/presidential election cycle, recharging with your nearest and dearest could provide a much-needed boost. Unfortunately, because this is 2020, that's one of the worst things you could do to and for your friends and family.
The Ohio State University Wexner Medical Center has just released some disturbing survey data suggesting that almost 2 in 5 Americans "will likely attend a gathering with more than 10 people, and a third will not ask guests to wear masks." COVID-19 is showing every sign of accelerating in the United States, with daily deaths and new infections relentlessly climbing all over the country. Wearing a mask (and the right one at that) is one of the best ways to tamp down on spreading coronavirus. The best way — the way that will keep your favorite people safe and healthy — is to maintain social distancing protocols and avoid exposure altogether.
Yes, it's the worst. We're all sick of it. But you'll be extra thankful at your next large gathering, the one where it's finally safe for everyone to be there. CNN has some tips for gracefully declining a Thanksgiving invitation, even if your parents nag you. Until then, the best way to get COVID and its fallout under control is to keep hunkering down for as long as we need to do so.