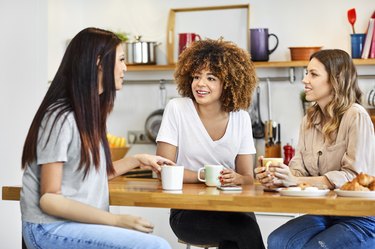 One big problem with personal finance as a concept is the "personal" part. Not only can the responsibility to properly manage your money feel overwhelming, but if you mess up, it seems like it's all your fault. It makes getting the conversation started at all difficult enough.
Two young female entrepreneurs are looking to change the way we talk about our funds. Writing for CNBC, Emma Pattee and Stefanie O'Connell Rodriguez insist that the personal finance industrial complex has put a lot of stock into shaming its readers for not knowing everything perfectly already. Instead, we should consider leaning into empathy for ourselves and each other. Without acknowledging the systemic barriers and new economic realities that we're all facing these days, we can't even change the behaviors that frustrate us or try new approaches that help us get smarter about our cash.
"When people stop viewing their situation as an individual failing and come to understand them as part of a shared human experience, it reduces feelings of fear and anxiety," Pattee and O'Connell Rodriguez write. The pair have founded a company, Statement, to address the issue directly.