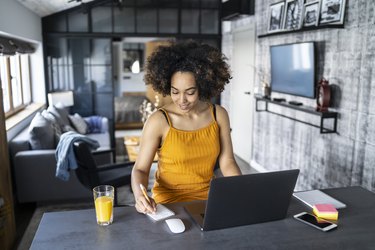 When we predicted back in 2017 that a majority of American workers would be freelance, nobody thought it would be coming about like this. But as with many things, the COVID-19 pandemic has spurred along trends that were already in motion. A new survey gives us a clearer look at just how much the future of work in the United States is changing.
The freelance gig platform Upwork has just released data showing that 36 percent of the U.S. workforce — a total of 59 million Americans — have done some kind of freelance work over the past year. The number of people who become full-time freelancers has jumped eight points since last year, and two-thirds of those surveyed agree that "freelancing has prepared them to cope with the uncertainty of the coronavirus pandemic better than those in traditional jobs."
That being said, whether you're an old hand at freelancing or just getting started, you probably understand that there are perils to an entirely gig-based economy. Workers who are interchangeable widgets, who come and go with projects — or with departmental budgets — are vulnerable to exploitation along a number of lines. While freelancers often said they were happier than office workers even before the pandemic (and the Upwork survey backs that up), it's important to ensure that freelancers enjoy workplace protections like any other worker.
Freelancers are optimistic about the future of freelancing, even with an economic landscape like our present. It's worth setting up your business to ensure the best for yourself, and by extension and example, your freelance colleagues.