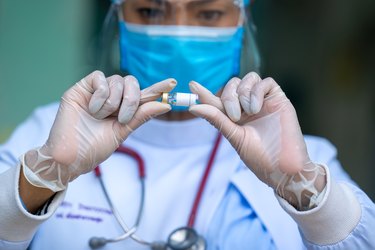 First, the pandemic was supposed to be over by Easter. Then, summer was meant to eradicate it. Now it's fall, with no good answers in sight — and flu season on its way besides. Everyone wants to know when COVID-19 might be under control enough to resume a more or less normal existence. According to the Centers for Disease Control and Prevention, we're still going to have to sit tight.
CDC director Robert Redfield said this week before Congress that an effective, proven vaccine for COVID-19 is unlikely to be available by the election in November, as some parties have expected or hoped. Instead, we should look toward summer 2021 as a realistic distribution timeline. A vaccine may not be a magic bullet either; we will still likely be wearing face masks for a long time.
The news is disappointing, especially after so many of us are feeling so ground down by the pandemic and the national response to it. As employers start to make tentative steps toward reestablishing businesses in a new paradigm, not everyone can count on being brought along. The most important thing until a vaccine becomes available, however, is to stick with the harm reduction policies we've widely adopted, from maintaining facial coverings to social distancing.
If you're interested in the how-to of the vaccine development process, the podcasts Factually and Science Vs have produced some very good episodes about when to expect the so-called magic bullet. It won't, in fact, solve all our problems in one fell swoop, but we can do a lot before next summer to help it until it arrives.