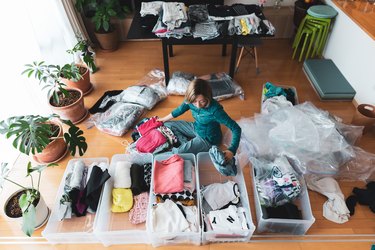 Whether you've been on self-quarantine lockdown for six months or you're just in the mood to turn over a new leaf, you've probably developed some strong opinions about your living space over time. The desire to just chuck it all and start over may be appealing, but your budget is also not always built for that kind of reinvention. The first step, then, is getting rid of what you don't want anymore, to make room for whatever it is that you do.
Apartment Therapy is running its own 20-day Decluttering Cure, a free, step-by-step program to help you get to the bottom of all your stuff. If you need help figuring out what you truly like in the first place, especially if Marie Kondo isn't really your thing, Apartment Therapy has a suggestion that will make your inner child happy. It involves making a mess — specifically, in the context of your closet, taking out absolutely every piece of clothing that you own and looking at the total picture all at once.
The idea is not to start culling the ratty t-shirts and misshapen underwear right away, but rather to start your wardrobe from scratch, picking out the things you like best as if you were shopping. By focusing on the things that definitively spark joy (or however you think about what makes you happy), you don't have to waste mental energy on whether or not you want to keep things that you're sort of indifferent to. "You don't have room for it, and you don't love it as much as you love everything else," writes Taryn Williford. It's a simple process, outlined more fully here. Give it a try, whether for your outfits or your home in general.