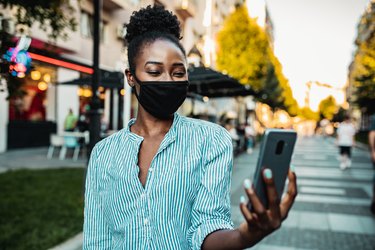 With social distancing, lockdown orders, and mask mandates still in widespread effect, the coronavirus pandemic doesn't look like it will be over anytime soon. We're all stressed as all get-out about COVID, but with nowhere to go but online, for the most part, we rely on social media for much of what we used to get in person. At a time when political tensions (not to mention a contentious presidential election) have us all on edge, however, more and more of us are finding new ways to spend our time — and it's not on our phones or social media accounts.
A new survey from Ohio State University has found that tensions around current events have led 56 percent of Americans to change how they use social media. While about 30 percent of survey respondents said they've increased how much time they spend on Twitter, Facebook, and the like, about 1 in 5 Americans say the stress of the news has driven them away from social networks.
"Being constantly immersed in this stressful environment and being overexposed to contentious or traumatic events can make you feel like the world is a less safe place to be," said Ohio State's Ken Yeager. "And because these stressors have persisted over a long period of time, it's wearing on people's ability to cope with that stress."