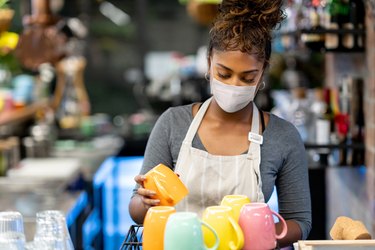 The COVID-19 outbreak has thoroughly upended "normal" life, and that's going to continue for a long time, most likely. With very little notice, we all had to adjust everything from shopping to socializing to earning money. Those fixes were never supposed to become permanent, however, and several months it, the cracks are already showing.
Researchers at the University of Washington have just published a study about the shape of work for Americans during the pandemic. For all the talk about remote work and working from home, only 1 in 4 workers actually can complete their jobs offsite. For the remaining three-quarters — a total of 108 million people — their jobs require them to be at a workplace, putting them at greater risk of exposure to COVID infection.
The researchers confirmed another problematic function of working from home, which is that only the wealthiest and most privileged employees can do so. The vast majority of risk, therefore, is shifted onto the lowest-paid workers in the United States. One in 3 Americans is already financially hurting from the pandemic, and huge portions of the businesses that employ retail and food service workers are going under because of stay-at-home orders. Those that do reopen may still present risks to both employees and customers.