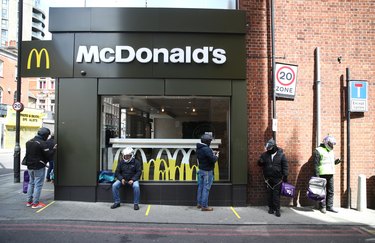 Rare is the kid who grows up with no experience of fast-food restaurants. The convenience and the price for parents can't be beat, and if you're young enough to get toys with your meal, it's a temptation you'll never want to resist. Because of the COVID-19 outbreak, however, one of our childhood staples is off-limits for the duration.
This week, McDonald's issued a 59-page internal guide to the conditions under which dine-in service could be resumed. It offers advice about how to enforce social distancing inside restaurants, as well as new cleaning regimens and methods of delivering food. For every kid, both past and present, who loved making unholy self-serve soda combinations, bad news: The customer-operated soda fountains are, for the most part, going to be off-limits.
You can see the McDonald's corporate factsheet with a quick rundown of the new rules, but most of them tend on the commonsense side. Contactless payment options will become the priority at checkout, hand sanitizer will be widely available, and decals on the floor will point you where you need to go. Also unsurprisingly, any play areas for kids have been shut down. McDonald's states that its facilities will all be "deep cleaned" before reopening, but it's important to remember that this isn't a technical or scientific term, and it has many different meanings depending on who's deploying it.
No matter what, if you're disappointed that you can't blend the fountain soda of your dreams and/or nightmares, it may be worth recreating the experience at home — maybe with some takeout to really top things off.