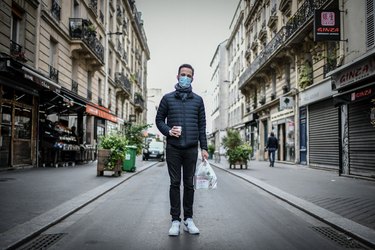 If you keep in touch with friends overseas, you may have noticed some of them posting about life returning to normal. They might be going back to office jobs or eating in actual restaurants. They live in countries that responded to the COVID-19 outbreak quickly and thoroughly.
The United States, on the other hand, has not implemented a number of procedures that are known to curb epidemics and disease. We don't have a consistent system of contact tracing, which tracks down every person an exposed or infected person may have exposed to the coronavirus. Our public health institutions, such as the Centers for Disease Control and Prevention, aren't issuing firm guidelines for known danger zones, like meat-packing plants and nursing homes. Local law enforcement is unevenly cracking down on people who don't follow social distancing or protective facial covering restrictions. There still aren't enough tests.
If your locality is opening up again, whether it's your state, city, or just your neighborhood, take care to stay safe. Continuing to work from home if you can is still a good idea. Keep wearing masks and maintaining a six-foot distance where you can. Medical experts are, by and large, not the ones urging the economy to open back up, and even the Trump administration estimates that by early June, we'll see daily death tolls of 3,000 from COVID-19.
Yes, it's exhausting and frustrating and frightening. But now more than ever is the time to listen to medical professionals. Keep track of news from the World Health Organization and other trusted sources. The coronavirus is likely to keep coming in waves. Let's do our best to keep them as small and contained as possible.