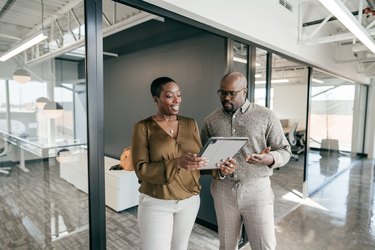 Working in an office or around other people in general might seem like an ancient memory by now. Did we hallucinate the coffee machine, the open floor plan, the shared bathroom? Someday, however, we will be able to get back to work side by side with our colleagues. It's worth thinking about what might change by the time we do.
Recode's Rani Molla dug deep into what the office of our near future could feature, considering trends in COVID-related health concerns, organizational psychology, and what kind of budgets might be available for redesigns. The dire economics of the pandemic will probably compel employers to look for cost-cutting measures wherever they can, and supporting more work-from-home infrastructure might be one way of doing that. Common work areas, however, might sport more contactless technology (including doors and elevators), more barriers between workspaces (cubicles!), and more distance between stations overall.
For everyone who loathes the open office, this sounds excellent. Rather than increasing collaboration and breaking down hierarchies, the open office's primary utility is to bosses — they're cheap. Meanwhile, concentration and morale suffer, and productivity doesn't make up for it. Whatever the physical layout of our future work situations, it's always key to cultivate a good office culture. Allowing workers the flexibility to play to their best competence, authenticity, and cohesion will engineer a far better team than free snacks and unlimited vacation.
These changes might be gradual, but they might be coming. Workplaces allowing for more worker safety and happiness should be one thing we can all look forward to.