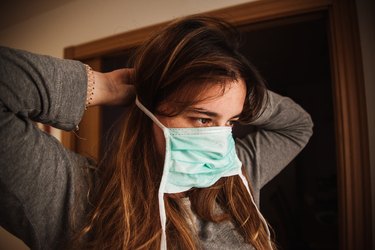 We're well aware of the health risks of COVID-19. The symptoms and scary outcomes have gotten a lot of coverage in the news and on social media. It turns out one thing might scare Americans more than coronavirus, though — our own health insurance.
Gallup has just released a startling new set of data about our reactions to suspicious symptoms, like dry cough, fever, or loss of taste and smell. One in 7 Americans (14 percent) say they would not seek health care for themselves or a family member if confronted with the possibility, all because of potential health care costs. Even when asked about a scenario in which they definitely have COVID-19, a full 9 percent of respondents still wouldn't consider going to a hospital or health care provider.
That's bad news for a multitude of reasons, one of which is community spread of the coronavirus. It can be rough out there seeking help in the first place, though: In the same survey, 6 percent said they'd been denied care because of overload from COVID. Feeling anxious about how your insurance will help or become a hassle is more than reasonable in the United States, though. Luckily, the podcast An Arm and a Leg has just begun releasing episodes specifically devoted to addressing health insurance strategies for the pandemic. In the latest short episode, for instance, health advocate Anna Davis Abel shares how to get your insurer to accept a COVID-19 test through a simple coding fix.
Health insurers should make things easier while you're in a health crisis, but until then, there are people out there ready to help.