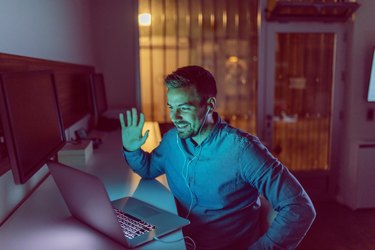 A pandemic is no time to worry about matters as abstract as online privacy — unless, of course, the best way to keep in touch with your family, friends, classmates, and colleagues might expose you to all kinds of internet chicanery. Unfortunately, that's proving the case with the video-chat program Zoom, which as of publication seems to be holding the world together by a thread.
Before the COVID-19 pandemic swept the globe, Zoom was nothing fancy, but it seemed to do its job well. There were some vulnerability hiccups last year, including bugs that kept your front-facing camera on and even installed an active server on your hard drive, but the company insisted that it had fixed them. As more eyes probe the free service, however, more privacy issues seem to come up. Some may seem niche, such as a feature that alerts chat organizers if participants click away from the Zoom window. Others scrape user data and send it to Facebook's advertising unit, even if the user isn't on Facebook.
That's not all: Zoom's encryption isn't robust enough to ensure total user privacy, even though Zoom offers plans that are HIPAA-compliant. You've probably heard about "zoombombing," in which anyone from mischievous randos to racist hate groups can join chats and disrupt them. This isn't to say that Zoom is too badly compromised for your needs, or that alternatives like FaceTime and Skype don't have issues of their own. But it's worth keeping an eye on internet privacy overall: Our lives are only going more online going forward, and forewarned is definitely forearmed.