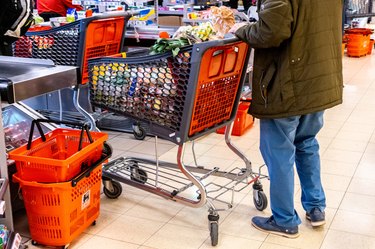 Choose your metaphor when it comes to shopping during a pandemic: It could be Supermarket Sweep, chaotic but joyous — or it could be Mad Max, a raging fight to the death over that last bag of picked-over bread. If the coronavirus outbreak has proven anything about American consumers, it's that we know what we want, and we're determined to get it.
This week, NPR found out what we're really buying en masse. Using Nielsen sales data, reporters compared figures from the first week in March to records from 2019. The results are impressive: We're buying nearly five times as much hand sanitizer, twice as much "fresh meat alternatives," 112 percent more first aid kits, and (perhaps surprisingly) 60 percent more toilet paper. We're also stocking up on black beans, kombucha, vitamins and supplements, and oat milk.
Not all of that is happening in brick-and-mortar stores. Unsurprisingly, the pandemic is the Everything Store's time to deliver — but even Amazon is bowing under the weight of Americans' demands. The company announced last week that Prime members and others should expect delays in shipping and delivery thanks to COVID-19, both because of short staffing and enormous surges in orders. One- to two-day shipping might become closer to four, and Amazon itself is cracking down on fake product listings and price gouging.
One op-ed pointed out that Amazon workers are "basically doing disaster relief work right now, in the kind of high-pressure retail environment we usually only see during Christmas and Black Friday." We're all anxious right now, but being patient is one of the best things we can do for us all.