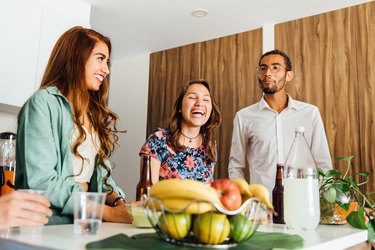 "Don't judge a book by its cover" is solid advice for dating and libraries, but as people, we can't always help drawing conclusions from first impressions. So much of what we buy these days is digital before we ever hold it in our hands. That includes experiences, as millennials are very happy to tell you, and if you're looking to make money off that trend, it makes personal branding more important than ever.
Researchers at Israel's Hebrew University have just published a study with some pretty practical applications. It looks into how Airbnb guests evaluate a listing — and how they choose which hosts to trust. These calculations break down into two categories: characteristics of the host, which includes factors like gender and facial expression, and the quality of the photos posted (e.g., whether they're blurry or well composed). Eager hosts can game the algorithms and their chances by choosing carefully how to represent themselves online.
The results? A "trustworthiness pecking order," according to the study: "[W]omen are deemed more trustworthy than men, older hosts over younger ones, smiling faces over neutral expressions, attractive hosts over unattractive ones. … [H]igh-quality photographs did better than blurry ones, and photos that showed the host interacting with other people ('a multi-person photo') did better than solo shots of the host."
Airbnb is one of the most lucrative (and sometimes controversial) side hustles out there. If you don't check every box on the study's list, don't worry — you're still likely to do well if you just show your best angle.