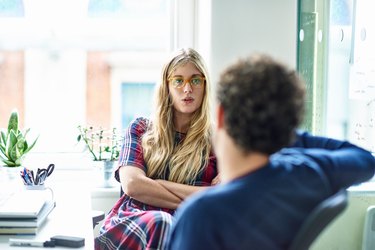 Despite the rise in reporting and activism thanks to the #MeToo movement, workplace sexual harassment is still drastically underreported. This may not surprise anyone who knows the true beneficiary of the human resources department, but one might also assume that employees with the least institutional power could be the most likely targets of such abuse. One Swedish research team may have turned that assumption upside down.
Their study, released this week, found "that women with supervisory positions experienced between 30 and 100 percent more sexual harassment than other women employees. This was true across the United States, Japan, and Sweden, three countries with different gender norms and levels of gender equality in the labor market. Comparing levels of leadership, exposure to harassment was greatest at lower levels of leadership, but remained substantial and similar to the level of harassment for the highest positions."
It's bad enough that women in leadership positions, where they exist at all, are often walking a tightrope from the beginning of their tenures. When male colleagues cross a line, it's often to do with power, entitlement, and a poor sense of self-worth. The thing is, even though businesses have expressed anxiety about hiring or promoting women for fear of #MeToo backlash, most adults have a firm idea of what's okay and what's not.
"Sexual harassment means that women's career advancement comes at a higher cost than men's," said coauthor Olle Folke. Both personally and institutionally, we can all do a lot more to counteract those conditions.