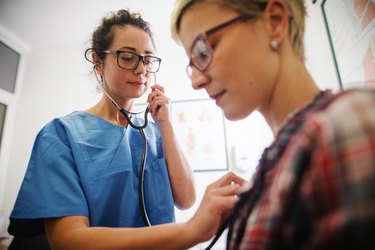 The extremely aged among us often have some pretty good advice for staying alive past 100. Often it's funny: Avoid men, smoke a cigar every day, indulge your vices whenever you want. Another piece of advice you may have heard about longevity? Take a baby aspirin once a day.
The accepted wisdom for decades has been that a small daily dose of aspirin could protect against heart attack, stroke, or even colon cancer. Now one University of Georgia researcher isn't so sure. In a paper published this week in conjunction with the Royal College of Surgeons in Ireland, experts found that while heart attacks went down, internal bleeding rose, especially in the stomach and in the brain.
It's easy to throw your hands up when you see this kind of dramatic reversal in health or consumer news. One minute wine is good for you, the next, it'll kill you! Fill in the blank for chocolate, red meat, or whatever else is generating a lot of studies. Once you dig beyond a headline, tweet, or news segment, there's usually an answer for why researchers think this needs saying. In this instance, the study notes that a lot has changed since the 1980s, when the original aspirin studies were going down.
"These days, treatment for blood pressure, cholesterol, and diabetes are more aggressive, and the rate of other risk factors like smoking has dropped," according to a press release. Says coauthor Mark Ebell, "There are so many things that we're doing better now that reduce cardiovascular and colorectal cancer risk, which leaves less for aspirin to do." So save your painkillers if you're worried about heart health — chances are you've already got it covered.