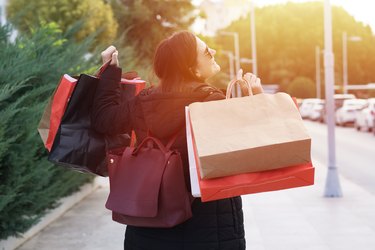 Shoppers, start your engines — the most wonderful time of the year is almost upon us. The biggest price cuts and mega-deals tend to drop right after Thanksgiving (or, if Thanksgiving is late in the month, even earlier). If you want to maximize your spoils for the least amount of spending, you're going to need a plan.
Herb Weisbaum, writing for NBC's Better, lays out eight tried-and-true tips for navigating Black Friday, Cyber Monday, and frankly any other oversized shopping event. They're all good advice, but mostly they can be summed up in two words: lists and research. It's not the buzziest set of terms, but these concepts will help you stay within your limits, buy what you actually want, and get you the best sales online and in person.
The process does require a lot of prep work, though. If you're not on turkey duty, there's still time to lay out your plan of attack. Figure out which stores offer the biggest discounts on the same items, or whether it's smarter to wait until after the holiday season altogether. (Televisions, for instance, tend to be cheapest and at their best quality right before the Super Bowl in January.) Figure out how much you want to pitch in for your local economy during Small Business Saturday. And most of all, no matter where you shop, make sure you're treating retail employees well.
Check out Weisbaum's full list, with advice from experts, for a full-spectrum look at your Black Friday battle plans.