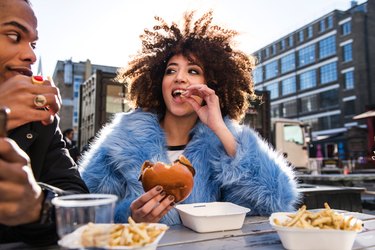 Fast food has always been about efficiency — well, that and delicious fries, small plastic toys, and sometimes even seasonal milkshakes. We develop our preferences for one chain or another for a variety of reasons, but sometimes it really does just come down to time. Thanks to some critical research, you can now make an informed decision the next time you're hankering for something hot and quick.
Restaurant industry magazine QSR has just released the results of its latest survey of fast food timing breakdowns. The magazine averaged the time it took between pulling up to the speaker and receiving your order at the window. You're likely to get served the quickest during breakfast, which bodes well for No. 1 performer Dunkin'. There you're likely to get your donuts and coffee in just under 217 seconds, a little over three and a half minutes. If you're looking more for burgers, Wendy's comes out on top, beating Burger King by a sliver and McDonald's by nearly a minute.
This isn't a statement about customer service, necessarily. Drive-thru times overall are about 20 seconds slower than they were in 2018, in part due to the increasing complexity of menus and the addition of drivers picking up mobile orders from apps. If you wish your drive-thru experience was a little more NASCAR, though, rest assured: Franchises like Chick-fil-A and Arby's are working on integrating more speed into their ordering process. Expect to see iPads and streamlined car lanes at fast food joints going forward. In fact, you could probably set a timer to it.