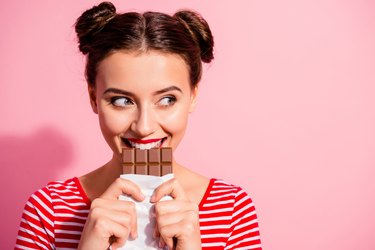 Gimme a break: Don't pretend you don't love garbage candy. Much as we love to give (or receive) whole-bean fully organic 90-percent cacao and gogi berry chocolate bars, you're always basically up for something you grab at the checkout counter in a convenience store.
If you do have your eye on something finer but not too fine, it could be time to book some tickets to the U.K. The chocolate manufacturer Nestle announced this week that it would soon offer fully customizable luxury KitKat bars. Shoppers can create almost 1,500 "whole new, premium KitKat experience[s]," including, as Yahoo! Lifestyle puts it, "with ingredients including rose petals, cocoa nibs, and shortbread pieces, and the option to coat the [KitKat] fingers in ruby chocolate."
You can get these bars between Sept. 26 and Christmas Eve in 30 U.K. John Lewis department stores, but this kitschy creation won't be cheap: Each delicacy will cost £14, or about $17.50 in the U.S., assuming both the dollar and the pound hold in the face of local politics. Then again, there will be cheaper, premade options at about half the price, with "British classics like Eton Mess, Cherry Bakewell, and Earl Grey," writes CNN.
For those waffling about whether to indulge in the most personalized mass candy on the block, consider all the benefits of chocolate, including its cold-fighting properties. This opportunity may not be working as a taster for Nutella, but it's bound to be its own over-the-top and memorable kind of fun.