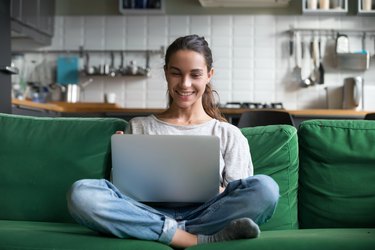 The grass is definitely always greener on the other side: While a freelancer might envy a salaried worker's health insurance and steady schedule, an office drone could be longing for the freedom to travel and earn. Some new research might come down on the freelancer's side of things.
A just-released international paper looks at the mental health benefits of self-employment, with some interesting results. First comes proving that gig workers are overall happier, which the research team confirms in Uber drivers, delivery contractors, and Airbnb hosts. After combing through data from other studies, the researchers found that gig workers reported an improved ability to concentrate, higher self-confidence, and an increased sense of self-worth and happiness.
If you work a 9-to-5 and wish you had some of that autonomy (but without the precarity), talk to your manager about working from home. The ideal office of the future has a lot of flexibility, according to multiple surveys. There's no time like the present to seeing where it could take you.