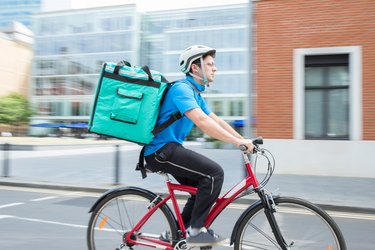 Browse any social network long enough and you'll run into inspiring and infuriating stories about tipping. Sometimes it's the guy who leaves fake money and a moralistic note for a restaurant server; sometimes it's the celebrity who leaves $150 in cash. For most of us, tipping properly is just good etiquette, confusing as it sometimes is.
This includes being smart and often generous with whoever brings your takeout order from the delivery app of your choice. We've got new reason to reevaluate how we do even this, however: The New York Times has just published one reporter's week at work as a delivery guy. To his shock (and many of ours), any tip given through the DoorDash app didn't actually make it to the delivery person — instead, the customer subsidized the flat rate DoorDash provides. In other words, the company pocketed the little guy's tip.
Unfortunately, this isn't new. In fact, DoorDash weathered a similar scandal just a few months ago. We all know that tipping has gotten more awkward as technology has made it more sophisticated, not to mention that the under-40 crowd is, for obvious macroeconomic reasons, the least generous with its tips. Lifehacker's David Murphy has put together a list of how the most popular delivery apps handle tipping their contractors, but one truth remains self-evident above all else: If you want to thank the person who saved you a trip and got you your pad thai in record time, skip the electronic stuff and tip them in cash.